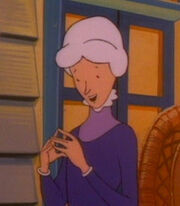 Madame (aka The Old Lady, her real name is not mentioned) is the human woman (voiced by Elizabeth Hanna) who adopted and raised Babar. She let him live inside her home before his coronation to king. Then he later built a home for her in Celesteville of Elephant City.
Madame has an old and dear friend whom was featured playing an organ in The Phantom.
She is a kind-hearted and generous person. She loves Babar and his family as if they were her very own family. She does a number of jobs to help around Celesteville. Also she is a teacher for many of the children of Celesteville.
Madame is absent from Babar and the Adventures of Badou, where it is assumed she died of old age in the time between it and the original series.
Madame doesn't appear in Season 6 of Babar (TV Series), because the family is traveling all around the world to many different places visiting special lands.
Video
Community content is available under
CC-BY-SA
unless otherwise noted.